Wyndham Anti-racism Support Network
Wyndham CEC is the coordinating centre of the Wyndham Anti-racism Support Network (WASN) established in May 2021. This local based anti-racism network is the first of its kind in Australia and aims to bring community organisations and groups together to provide support in reporting racism by providing:
A community based online reporting tool
A current list of appropriate referral agencies; and
Regular meetings and information sharing
The network was established in response to the findings of the research report, 'All in this together: A community -led response to racism for the City of Wyndham.' VU researchers, Dr Mario Peucker, Associate Professor Tom Clark, and Ms Holly Claridge conducted a community survey, focus groups, and consultations with a range of local community groups between late 2019 and early 2021 to develop a 'Wyndham Roadmap' – practical ways that reporting and support services could be tailored to the specific needs of the city's diverse communities.
At the centre of the roadmap is a three-tiered, community-led anti-racism local support network comprised of first-contact organisations, specialised support services, and Wyndham Community and Education Centre as the coordinating centre.
Chief Investigator Dr Peucker said the study found that a support network which takes into account the specific experiences and needs of local residents and builds on existing community structures "can break the often-silencing effects of racism and empower people to speak up about their experiences and get the support they deserve."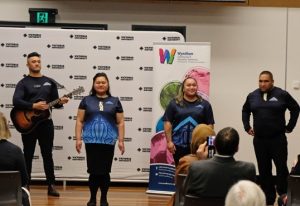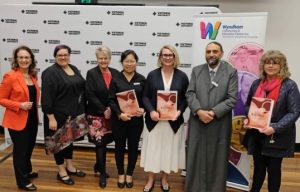 Launch of the Wyndham Roadmap report and the Wyndham Anti-racism Support Network, 17th May 2021