About Jobs Victoria
Jobs Victoria provides jobseekers with advice and support to navigate their pathway back to work.
About west@work
west@work is a free and voluntary service offered as part of the Jobs Victoria Employment Services initiative for both employers seeking staff and jobseekers within Victoria.
west@work has successfully supported thousands of local jobseekers into local jobs work within the western suburbs of Melbourne since 2016. Our vision is to continue to achieve strong employee retention for local business and ensure long term employment outcomes for community members in Wyndham and surrounds. We provide a customised service to compliment Federal and local employment services and foster strong collaborative relationships with stakeholders to fill labour market gaps. 
west@work is a partnership between three trusted community service, education and training providers in Melbourne's west. Our partnership, Westgate Community Initiatives Group Inc., Wyndham Community and Education Centre and Djerriwarrh Community and Education Services have over 100 years combined experience in serving and enriching our local communities in the west.
About our Services
| Employer services | Jobseeker mentoring services |
| --- | --- |
| End to end recruitment | Work preparation and readiness |
| Vacancy listing and management | Pre employment training |
| Pre-screening and candidate shortlists | Mentoring and coaching |
| Workforce planning and training | Job matching |
| Access to database of genuine workers | Reverse marketing |
| Introduction to Victorian government business engagement team | Employment onboarding support |
| Exclusive access to further financial initiatives to support your business from the Victorian State Government | Post placement support to ensure a smooth transition that supports both jobseeker and employer needs for at least first six months |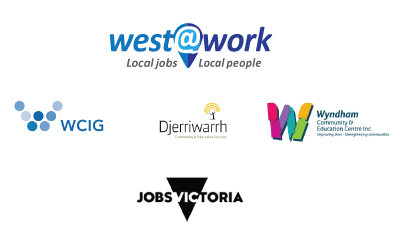 Are you eligible for JVES?
| Employer eligibility | Jobseeker eligibility |
| --- | --- |
| Registered Victorian business with Australian Business Number | You have been unemployed for six months or more |
| Complies with relevant State, Federal Awards | You are unemployed and at risk of long-term unemployment due to challenges when seeking employment and require additional support than you are currently receiving from other services. |
| Provides ongoing, long-term job opportunities | You are an Australian/NZ citizen, or a permanent resident, or a temporary resident under Australia's refugee and humanitarian program who hold visas with work entitlements. |
| Casual, part-time, full-time positions are eligible provided they meet the above criteria | If you meet the eligibility criteria above, and are receiving support from a Commonwealth employment service, you are still eligible for Jobs Victoria Employment Services. |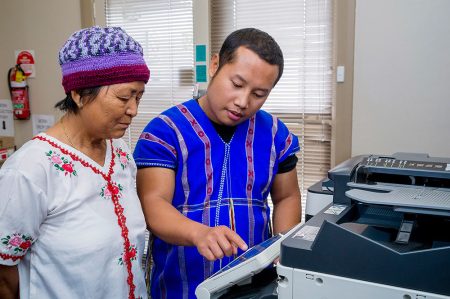 If you are seeking employment and wish to register your interest directly, please fill out the registration form.
Want to know more?
If you want to know more, please contact our Employment team directly on 9742 4013 or via email at projects@wyndhamcec.org.au